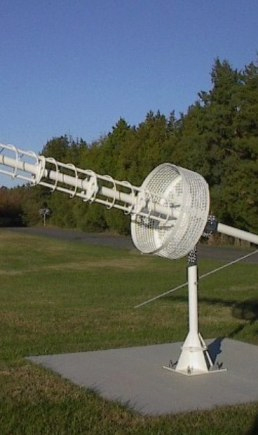 Item Code: FAH255R(H)-1S
Model: FAH255R(H)-1S
These advanced "miniaturized" or "shortened" versions of our renowned hurricane helix antennas provide the same robust mechanical integrity as their larger counterparts. Our shortened or "S" series like all our other helix antennas are able to withstand the most challenging environments and are backed by our full warranty. The FAH255R (H)-1S has excellent gain in the 240-270 MHz. receive band and exhibits excellent pattern coverage. Our shortened FAH helix antennas have an added benefit of being suitable for tactical or more transient applications.
For optimum structural and mechanical integrity, Antenna Technologies Limited Company highly recommends our JIMINI Mast mount. These aluminum or steel masts have been especially designed for the weight- torque ratio of our helical antennas under stress and provide the stability needed under most any adverse condition. For added value, all Antenna Technologies Limited Company helix antennas are supplied with our unique, robust mast mounting hardware kit at no additional cost.
Antenna Technologies Limited Company includes an MA3H mount with all our FHH and FAH model satellite ground station antennas. This extremely robust mounting hardware is specially designed for attaching the antenna to either our JIMINI steel or aluminum mast (optional).
The combination of the MA3H Mount and Antenna Technologies Limited Company 's specially designed JIMINI mast combined provides for an optimum mechanical structure; capable of withstanding the most severe environments.

Advantages

Unequaled performance
Outstanding Dependability
High wind/ice tolerance
Compact size

Features

High gain
Low side lobes
Low axial ratio

Electrical Specifications

| | |
| --- | --- |
| Frequency Range | 240-270 MHz |
| Power | 2000 watts PEP |
| Polarization | RHCP |
| Gain, dBi | 12 dBic minimum |
| VSWR | 1.5:1 Maximum |
| Beamwidth | 36° @+/-3dB |
| Axial Ratio | 2 dB |

Mechanical Specifications

| | |
| --- | --- |
| Turns | 9 |
| Helix Diameter | 15 inches |
| Cavity Shroud | 44 inches |
| Stub Diameter | 4 inches |
| Length | 124 inches |
| Total Weight | 122 lbs |