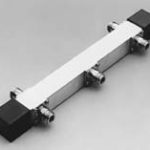 Item Code: 00317
Model: MPD-2NF

Advantages

• A precision tuned and sealed power divider/combiner that can be used for increased gain, dual-direction or shadow- filling antenna applications and other combiner/divider applications.

Features

Broadband. No tuning is ever required.
• Low Loss construction and constant impedance N connectors.
Square tube construction simplifies installation and weatherproofing to protect system failures.

Electrical Specifications

| | |
| --- | --- |
| Frequency Range | 400 – 2500 MHz |
| VSWR (50 Ohms) | 1.1:1 typical |
| 1.5:1 bandwidth | 10 minimum |
| Power | 50-500* |
| Termination, feet (m), coax | N Male or |

Mechanical Specifications

| | |
| --- | --- |
| Mounting | In-line |
| Weight | <1-1.5 (.68) typical |