Item Code: 00107
Model: V-1600WB

Advantages

Unity gain omni specifically optimized for communications in the 148-172 MHz band. Broad beamwidth for wide area coverage.
Excellent choice for omni directional coverage such as security monitoring or data collection applications.

Features

Small sized, the antenna is ideal for pole mounting or portable operation
Antenna Technologies Limited Company 's all-brass center feed is encased in a heavy-wall fiberglass radome with a 6063-T832 aluminum support tube for a clean radiation pattern and superior strength.
This antenna incorporates a flexible piftail termination and all stainless steel hardware to make installation easy and reliable.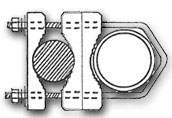 Electrical Specifications

| | |
| --- | --- |
| Frequency Range | 148-174 MHz |
| Gain, dBd | Unity |
| VSWR (50 Ohms) | 1.2:1 typical |
| 1.5:1 bandwidth | 26 minimum |
| 3 dB Beamwidth E/H Planes | 90/360 |
| Power | 150 |
| Termination, feet (m), coax | UHF Female, 1 (.3), RG58 type |
| Polarization | Vertical |
| Pattern Degrees | 360 |
Mechanical Specifications

| | |
| --- | --- |
| Element Material | All brass components |
| Mast Diameter, inches (cm) | 1.25-2.25 (3.2 – 5.7) |
| Mounting | Supplied |
| Wind Surface Area, feet² (m²) | .37 (.03) |
| Wind Survival | 125 (200) |
| Weight | 4.0 (1.8) |
| Size,Inches | 5 (1.5) |
| Randome Material | 1.0″ OD; .125″ wall Fiberglass |