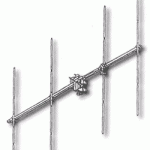 Item Code: 00292
Model: FM-100-4

Advantages

An excellent choice for translators and low power stations.
These antennas can be phased for pattern control or stacked for additional gain.
The rugged design includes a thick-walled square tube boom and stainless steel hardware to assure lasting service.
Assembly and installation is easy and the flexible feedline simplifies interfacing to your feed.

Features

State-of-the-art, computer optimized, 4 element Yagis for both low power transmit and receive applications.
Available in four different models to cover the entire FM band, the design produces a full 7 dB of gain with a clean radiation pattern.
These antennas incorporate a truly balanced feed system that never requires tuning.

Electrical Specifications

| | |
| --- | --- |
| Frequency Range | 97-102* |
| Gain, dBd | 7 |
| 1.5:1 bandwidth | 5 |
| 3 dB Beamwidth E/H Planes | 67/115 |
| Power | 1500 |
| Termination, feet (m), coax | N female, 2 (.61), RG303 type |
| Polarization | Horizontal or Vertical |
| Stacking Distance, E/H Planes | 9 (2.73) / 6.3 (1.9) |

Mechanical Specifications

| | |
| --- | --- |
| Number of Elements | 4 |
| Boom Length, feet (m) | 6 (1.83) |
| Boom Material | 1.00″ Square tube; .062 wall; 6061-T6 aluminum |
| Element Material | .625″ diameter 6063-T832 aluminum tube |
| Mast Diameter, inches (cm) | 1.25-2.00 (3.2-5.1) |
| Mounting | center (standard) or rear (option) |
| Wind Surface Area, feet² (m²) | 1.34 (.124) |
| Wind Survival | 125 (200) |
| Weight | 8.5 (3.9) |
| Wind Rating | 100/160 |