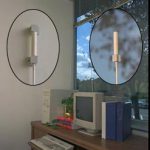 Item Code: 00337
Model: PCD
The Antenna Technologies Limited Company PCD antenna is ideal as a low profile, indoor/outdoor extended range solution for voice or data device applications. These antennas were initially developed for Wireless Local Loop (WLL) phone terminals as an alternative to the standard fix mount whip antenna. The cable length allows the user to place the antenna in a convenient location within a room for the improvement of signal quality.
The PCD antenna can be conveniently located several feet away from a data or phone device by using the integral mounting legs provided. These legs have screw holes in the base for more permanent mounting applications. For temporary applications, velcro pads are supplied for ease of removal from a window or wall.
General Specifications

Element Type  

Polarization 

Gain

Azimuth Beamwidth

Elevation

VSWR (max.)

Impedance

Power Handling (watts cw)

Weight

Connector Types
Frequency Selection Chart

Model#

Frequency
(MHz)

Length/Dia.
(inches)

*Cable Length (ft.)
(standard)

PCD83

806-866

8.5/.525

12

PCD86

824-896

8.5/.525

12

PCD91

902-928

8.5/.525

12

PCD92

890-960

8.5/.525

12

PCD19

1850-1990

4.75/.525

6

PCD24

2400-2500

4.50/.525

6

    * Manufacturing Note: 

     Custom cable lengths are available, please call.