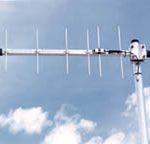 Item Code: 00011
Model: 430-6

Advantages

A rugged, high gain design with a clean radiation pattern allows these antennas to meet the performance requirements of many applications. An excellent choice for low cost RF security monitoring and other localized UHF installations.

Features

"EverSealed" feed system which insures against system failures due to moisture
Square boom construction for greater strength and solid aluminum rod elements
Flexible feedline interface with custom cable lengths available for easier, reliable installation
No field tuning required.

Electrical Specifications

| | |
| --- | --- |
| Frequency Range | 420-450 |
| Gain, dBd | 9 |
| 3 dB Beamwidth E/H Planes | 53/67 |
| Power | 100 |

Mechanical Specifications

| | |
| --- | --- |
| Number of Elements | 6 |
| Weight | 100/160 |
Quick Guide